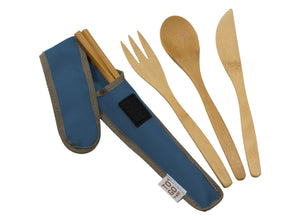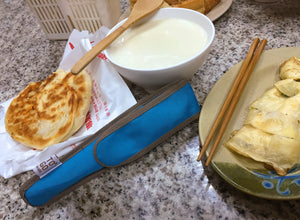 Product image 1

Product image 2
Product image 3

Product image 4
You've got your travel mugs and your reusable shopping bags. How about a bamboo cutlery set to round out the perfect toolkit for life on the go? A handy carabiner on the back lets you clip and carry a fork, knife, spoon and chopsticks wherever they may roam. Perfect for a busy lifestyle and our precious planet.
Features:
Replaces 1300 single-use utensils throughout its life
Set includes fork, knife, spoons and a set of chopsticks
Utensil case is made from 100% post-consumer recycled plastic bottles
Carabiner on back to clip anywhere
Heat and stain resistant
Hand-finished with top-grade natural, food-safe wood oil
BPA and Phthalate free
Dishwasher safe
Colour: Indigo
Materials:
Made of natural, responsibly sourced bamboo
Sleeve made from one recycled water bottle with certified rePreve recycled PET (Polyethylene terephthalate)
Dimensions:
Package: 8.5" x 1.85" x 1.13" (21.6cm x 4.7cm x 2.9cm)
Utensil length: 7" (8cm x 13cm)
Weight: 1.6oz / 45.4g
Warranty Info
We make every reasonable effort to ensure that you are happy with your purchase. If something happens to go wrong with your item, we will try to resolve the problem as quickly as possible.
Reviews