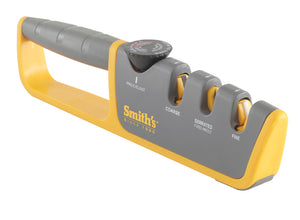 Product image 1
Product image 2
The Adjustable Angle Pull-Thru Knife Sharpener offers new, innovative features never used on a manual knife sharpener and functional performance unmatched by standard edge maintenance products. This sharpener offers two stages of sharpening (COARSE and FINE) for all types of straight edge knives with a grind on both sides of the blade and a fixed-angle slot for sharpening serrated edge blades. It will sharpen a wide variety of knives by simply adjusting the angle of the abrasive components to match the angle of the original factory grind. Just turn the dial to one of the 6 angles offered, then pull your knife through the appropriate slot(s). It's that easy! 
Features:
Angle Adjust™ knob that allows the user to adjust the angle of both the coarse and fine sharpening slots at the same time.

Two adjustable manual sharpening slots

Coarse featuring diamond stones to sharpen dull and damaged knives

Fine offers ceramic stones for finishing the edge and light touch-ups

The serrated fixed-angle slot with crossed ceramic stones designed to sharpen into the serrations of the knife

Soft-touch handgrip; Non-Slip base for added stability
Warranty Info
We make every reasonable effort to ensure that you are happy with your purchase. If something happens to go wrong with your item, we will try to resolve the problem as quickly as possible.
Reviews