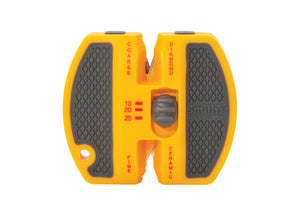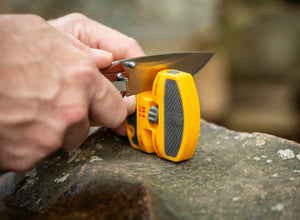 Product image 1
Product image 2
Product image 3
Smith's 2-Step Diamond Adjustable Knife Sharpener features two diamond rods and two ceramic rods with 3-preset 15, 20 and 25 degree sharpening angles for the perfect edge every time. Three or four strokes through the carbide sharpening slots will restore the edge on a very dull knife in seconds. The two crossed ceramic rods are good for a quick touch up of already sharp knives.
Features:
Adjustable angle sharpener for a range of knives and angles – 15°/20°/25°
Adjustable crossed carbide blades for quick edge setting
Adjustable ceramic slot for a razor sharp finish
Soft grip for increased control/comfort
Non-slip rubber feet for stability
Lanyard hole
Warranty Info
We make every reasonable effort to ensure that you are happy with your purchase. If something happens to go wrong with your item, we will try to resolve the problem as quickly as possible.
Reviews