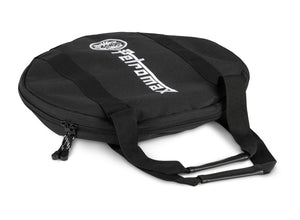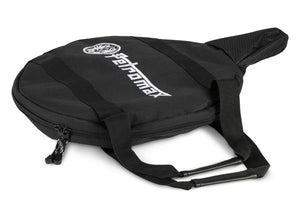 Product image 1
Product image 2
The Fire Skillet Transport Bag eases carrying your favourite Fire Skillet through forests, open terrain and mountain ranges thanks to the reinforced carrying handles. After use, you can store the Fire Skillet safely and easily inside the Transport Bag, as it is optimally protected by the particularly strong and tear-resistant ripstop fabric. Thanks to the high-quality workmanship and stability in Petromax quality, it is a loyal companion for every campfire excursion.
On the inside, the Transport Bag has a stowage option for the handle pocket. For the Fire Skillet with long pan handle, this handle pocket can simply be folded out to protect the handle from shocks and dirt. For your pan with two short handles, simply fold the handle pocket in again. In addition, the Transport Bag has a spacious zipped pocket and two separate mesh pockets inside so that your accessories, e. g. Gas Burner, Fire Kit or Scraper, can be easily stored and taken along.
Features:
Easy transport and storage option for the Fire Skillet
Suitable for Fire Skillet with handles and with long pan handle due to pull-out handle pocket
Zipped pocket and two separate mesh pockets inside
Particularly strong and tear-resistant ripstop fabric
Reinforced carrying handles for comfortable transport
Technical details:
Works with:
FP35-T
FP35H-T
GP35-T
GP35H-T
Material:
Nylon

Dimensions:
5 x 37..5 x 40.5 cm
Dimensions with handle pocket pulled out:
5 x 37.5 x 54 cm
Total weight:
749 g
Warranty Info
We make every reasonable effort to ensure that you are happy with your purchase. If something happens to go wrong with your item, we will try to resolve the problem as quickly as possible.
Reviews