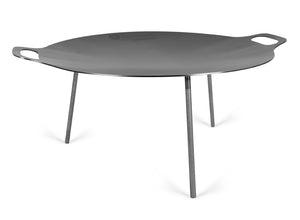 Product image 1

Product image 2
A delicious grilled feast, a juicy fry-up or a cosy campfire: It is all possible with the all-rounder made of steel. With a diameter of 56 cm (22 in), meals for 6 to 8 persons can be prepared on the fs56.
Cooking, grilling and frying
With the three pillars, the griddle and fire bowl stand steadily over an open fire. Its center becomes hotter than the edge, thus steaks, bakery produce and so on can be kept warm, while vegetables are still frying in the middle. Before using it for the first time, the griddle must be seasoned, so that a patina forms at each use, making it naturally non-stick. Once it has been seasoned, the griddle becomes hot very quickly and one can begin grilling right away.
Lighting a fire
The griddle and fire bowl offers you the opportunity to enjoy the crackling of burning wood logs and blazing flames under a starry sky. If you do not want to damage the ground with your campfire, this bowl is just what you need. You like to cook with our Dutch Oven? This is also possible with the Petromax Griddle and Fire Bowl! It is sturdy in such a way that coals and briquettes along with a well-filled Dutch Oven are secure on the bowl.
Practical transport
The fire bowl is not bulky at all, since its 23-cm-long (9.06-inch-long) pillars can be easily unscrewed. Thus the griddle can be packed in a bag and transported. Besides, the griddle without legs can be used with the Petromax Atago.
Technical details:
| | |
| --- | --- |
| Material: | Steel |
| Diameter: | 56 cm |
| Extension by support legs: | 23 cm |
| Height: | 30 cm |
| Width (max.): | 67.6 cm |
| Weight: | 7.1 kg |
Warranty Info
We make every reasonable effort to ensure that you are happy with your purchase. If something happens to go wrong with your item, we will try to resolve the problem as quickly as possible.
Reviews