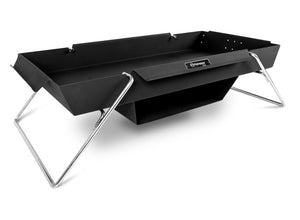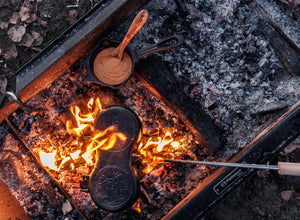 Product image 1
Product image 2
Product image 3
Product image 4
Product image 5
The Fire Trough is your flexible and portable outdoor fire bowl that allows you to explore diverse campfire cuisine wherever you go. With a 50-litre capacity for firewood, charcoal or barbecue briquettes, you can easily gather a large group to cook menus wherever your adventure takes you.
The flames are tamed in the steel fire bowl as the high edge protects the fire and allows for a clean fireplace. Thanks to the two easy-to-install support brackets, you can light your fire at a sufficient distance from the ground. So you won't leave any traces as your outdoor cooking adventure begins with the heat-resistant and indestructible fire bowl.
The combination of fresh air and experience makes you hungry: Treat yourself to some hearty food by combining the Fire Bridge with the fire Trough or erect the Cooking Tripod over the steel fire bowl to grill steaks with unmistakable grill stripes on the suspended grate. You will benefit from the load capacity of the Fire Trough which can hold up to 100 kg of cooking equipment.
The Fire Trough helps you to serve several dishes at the same time, as the attached baking compartment allows you to gratinate a potato casserole, cook juicy steaks or keep your farmer's breakfast hot. In the baking compartment, the Fire Skillets fp15 - fp30 or the Grill Fire Skillet gp35-t and the Loaf Pans k4 to k8 (without lids) have the perfect place until the hearty dishes are eaten by the fire.
When you assemble the Fire Trough for the first time, you equip it with the baking compartment and then you can transport it in the car or van to wherever you want to start your outdoor adventure. The sturdy support brackets can be easily dismantled without tools so that you can store them in the Trough to save space after cleaning the Fire Trough from ash residues.
Features:
Flexible and portable campfire and cooking place: 50 l filling capacity for wood, coal and briquettes
Versatile outdoor cooking: for keeping hot and gratinating in the practical baking compartment
Stable: can hold up to 100 kg
Campfire on the move: Stand brackets protect the ground
Made of 2.5 mm thick steel with all-round edge
Technical details:
| | |
| --- | --- |
| Material:  | Body, baking compartment - steel (painted), brackets- steel, tag - aluminium |
| Total dimensions completed (approx.) (H x W x D):  | 30 x 114 x 60 cm |
| Dimensions with packaging (approx.) (H x W x D):  | 17 x 117 x 60 cm |
| Baking compartment outer dimensions (approx.) (H x W x D):  | 11.5 x 55.8 x 43.7 cm |
| Baking compartment outer dimensions (approx.) (H x W x D):  | 11.4 x 46.5 x 35.5 cm |
| Total weight (approx.):  | 25 kg |
| Filling capacity (max.):  | 50 l |
| Load capacity (max.):  | 100 kg |
| Filling height (max.):  | 23 cm |
| Weight with packaging (approx.):  | 29 kg |
Warranty Info
We make every reasonable effort to ensure that you are happy with your purchase. If something happens to go wrong with your item, we will try to resolve the problem as quickly as possible.
Reviews