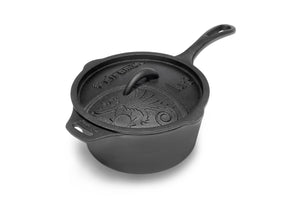 Product image 1

Product image 2
The cast-iron Saucepan is a pot with a plane bottom surface and handle that eases use over open fire or on a stove, in particular. Braised or cooked meat dishes, fish variations, savoury stews or classic sauces are sure to be a well-handled success. This Saucepan ensures that every dish benefits from the intensity of flavour that comes with preparing food in cast-iron cookware.
This characteristic taste experience offered is enhanced by a special aroma moulding integrated in the lid curvature. Rising steam condenses on the inside of the lid and is directed into the pot via the dotted surface structure in a precise and controlled manner. That way, the precious aromas are preserved and the food is cooked, roasted or simmered evenly with a special touch.
Side-openings for pouring ensure for sauces be served with pinpoint accuracy and ease draining of cooking water.
Technical Details:
| | |
| --- | --- |
| Material: | Cast iron |
| Dimensions (H x W x D): | 12.8 x 39.1 x 22.6 cm |
| Capacity: | 2 L |
| Weight: | 4.2 kg |
Warranty Info
We make every reasonable effort to ensure that you are happy with your purchase. If something happens to go wrong with your item, we will try to resolve the problem as quickly as possible.
Reviews