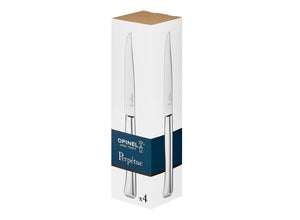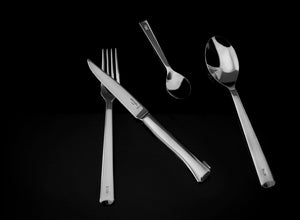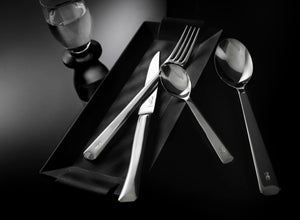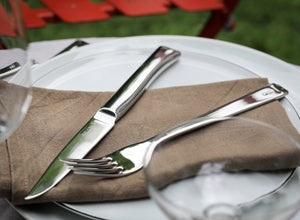 Product image 1
Product image 2
Product image 3
Product image 4
Product image 5
Product image 6
Perpétue table knives – Opinel tradition combined with contemporary design.
This box of four table knives from the Perpétue collection is perfect as a gift to yourself or anybody who wants beautiful sophisticated designer tableware on their table.
These knives with their 100% stainless steel handle and blade are very easy to clean. Their micro-toothed blade requires no sharpening.
They are equally suitable for helping you to slice meat, vegetables or any other traditional food requiring no specific blade.
These knives are a little heavier than the knives from other Opinel collections because of their steel composition, which makes them even more comfortable and pleasant to handle.
This box comes with four knives so you can start or continue your Perpétue collection.
Features:
X20Cr13 steel
Micro-serrated blade
Designed in France, made in Portugal
Lifetime warranty
Warranty Info
We make every reasonable effort to ensure that you are happy with your purchase. If something happens to go wrong with your item, we will try to resolve the problem as quickly as possible.
Reviews