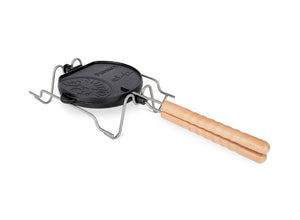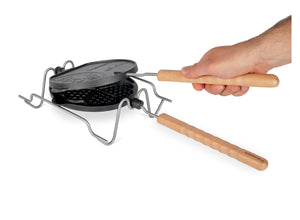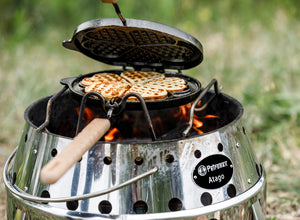 Product image 1
Product image 2
Product image 3
Product image 4
The Rotating Waffle Iron is a cast-iron form for preparation of savoury and sweet waffles in one turn. Together with the corresponding support frame you have the perfect base to position the Waffle Iron in a tilt-proof and non-slip manner. The cast-iron waffle form consists of two parts that are connected by a hinge. Guiding slots ensure for a firm position of the cast-iron form in the frame. By means of the closing mechanism the Iron is held locked together and remains safely locked during rotation: Thus, your waffle batter does not leak from the form. Due to the natural wooden handles you can easily turn over your Rotating Waffle Iron also in higher temperatures. The cast-iron notch on the side forms a stopper at the support frame. Therefore, the Iron can be rotated by 180° and stops once again at the correct spot of the frame. With the Rotating Waffle Iron preparation of fresh heart-shaped waffles will not go out of hand. At the same time, you do need not miss out on the characteristic taste of traditional cast-iron cooking.
If a fiery dragon branding is fully to your taste, the Rotating Waffle Iron's true dragon double function is exactly right for you. Where you can bake fluffy waffles on the inside, the outside furnished with a large dragon logo allows baking of thing pancakes or flat bread with strong dragon logo imprint. A team as strong as a dragon – The Rotating Waffle Iron and the Atago.
Make room please: For turning the Rotating Waffle Iron requires sufficient space. Hence, it is important to position the support frame somewhat higher in order to obtain enough downward space towards the middle. At best this equals no less than the diameter of your Waffle Iron. For your Iron to be freely movable and for smooth turning this is necessary. An ideal outdoor cooking place for using the Rotating Waffle Iron is the Atago: The support frame for the Rotating Waffle Iron fits perfectly onto the top edge. At the same time, the distance between support frame and charcoal grate is sufficient to bake waffles with indirect heat. You thus receive the best result and have enough distance for skillful turning manoeuvres.
Technical details:
| | |
| --- | --- |
| Material (Rotating Waffle Iron): | Cast iron, stainless steel, wood |
| Material (Supporting frame): | Steel |
| H x W x D (Rotating Waffle Iron): | 4 x 21 x 51 cm |
| H x W x D (Support frame): | 8.5 x 22 x 28 cm |
| H x W x D (Rotating Waffle Iron with support frame): | 9 x 22 x 54 cm |
| Weight (Overall): | 3.6 kg |
| Waffle size (diameter): | 16 cm |
Warranty Info
We make every reasonable effort to ensure that you are happy with your purchase. If something happens to go wrong with your item, we will try to resolve the problem as quickly as possible.
Reviews