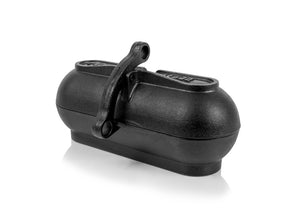 Product image 1
Product image 2
Product image 3
Ember baked potatoes, no matter whether as side dish or with a juicy steak are a perfect fit for an adventure menu. With the cast-iron Potato Cooker, you prepare potatoes and vegetables with the characteristic roasting flavour.
Matter of form: The cast-iron Petromax Potato Cooker for gentle cooking
Cast iron is perfectly suitable to prepare dishes at the open fire or on the grill as it optimally distributes the heat. In addition, the round design enhances the effect of the Potato Cooker. Perfectly baked potatoes, gratinated sweet potato wedges or savoury variations of vegetables such as stuffed bell peppers or aubergines adopt the typical roasting flavour when cooked in the embers. With an overall capacity of 1.8 litres the Potato Cookers holds about three fist size potatoes.
Safely by the fire with strong lever (lifting) action – The tilting bolt of the Petromax Potato Cooker
The cast-iron Potato Cooker stands out by its clever mechanism: The specially designed tilting bolt firmly locks both halves of the form as soon as you lift it up with a Lid Lifter. That way, you can safely remove the hot iron from the fire and relocate it. When hooking your Lid Lifter on the lower end of the tilting bar you easily open the cooker lid and can serve the steaming potatoes.
Edges well, end's well
The edge on the lid provides you with full temperature control. There you can place embers or briquettes and precisely adjust the top heat during cooking. The cast-iron Potato Cooker always stands firm on the surface due to the all-round bar on the underside that makes an even platform. For that reason, the cooker stands firm in the fireplace and can also be easily used at home in the oven. The protruding bar runs under the hinges and ensures for tilt-proof opening.
Technical Details:
| | |
| --- | --- |
| Material: | Cast iron |
| Outer dimensions (H x W x D): | 15.4 x 29.1 x 17 cm |
| Inner dimensions (H x W x D): | 5 x 28 x 10 cm |
| Capacity (overall): | 1.8 L |
| Weight: | 4.5 kg |
Warranty Info
We make every reasonable effort to ensure that you are happy with your purchase. If something happens to go wrong with your item, we will try to resolve the problem as quickly as possible.
Reviews