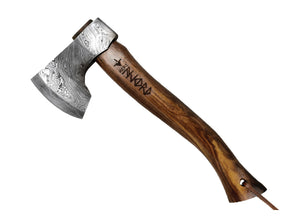 Product image 1

Product image 2
Made of hand-forged layered Damascus steel and finished with a red wood handle for a good grip, the Njord Huldra axe is an excellent choice for woodworking, logging and pruning jobs.
Features:
9.3cm Damascus steel blade
29.5cm Red wood handle
Weighs 692g
Handmade brown leather sheath with belt loop
Supplied in a luxury wooden case
Warranty Info
We make every reasonable effort to ensure that you are happy with your purchase. If something happens to go wrong with your item, we will try to resolve the problem as quickly as possible.
Reviews