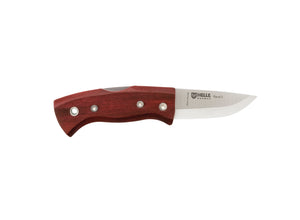 Product image 1
Product image 2
Product image 3
Product image 4
Raud (Red) combines the durability and usability of the classic Scandinavian work knives – an important part of Helle history.
The Raud S combines light weight with sturdy construction and a 2,7 mm thick blade. For normal hands, the deep oiled, red birch handle is just big enough for a three-finger grip.
Specifications:
Blade length:

 

55mm | 2.17"
Blade thickness:
2.7mm | 0.106"
Blade material:

 

12C27 stainless steel
Handle length:
80mm | 3.15"
Handle material:
Red coloured birch
Weight:
80g | 2.82oz
Warranty Info
We make every reasonable effort to ensure that you are happy with your purchase. If something happens to go wrong with your item, we will try to resolve the problem as quickly as possible.
Reviews