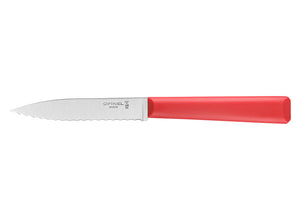 Product image 1
Product image 2
Product image 3
The serrated knife: a kitchen essential!
Thanks to its serrated blade, the Essentiels+ collection N°313 serrated knife allows you to cut foods with a thick skin and slice them effortlessly. 
In addition to its cutting ability, it features an elegant design with its red polymer handle (which can go in the dishwasher).
Warranty Info
We make every reasonable effort to ensure that you are happy with your purchase. If something happens to go wrong with your item, we will try to resolve the problem as quickly as possible.
Reviews